<![if !vml]>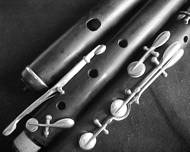 <![endif]>
Please call us at 248-885-2583 for more information and to learn about our tax free purchase program
A. Bonneville, Paris France
· Bonneville Solid Sterling Silver Flute - SOLD
Handmade solid sterling silver including keys and mechanisms, soldered tone holes, open hole, inline G, C foot, French pointed key arms, Boehm systems with closed G#, original case, A = 440Hz modern pitch. Plays beautifully
A. Lecomte Paris France
· Lecomte Wooden Flute
Circa 1880 handmade wooden flute, cylindrical bore headjoint, conical bore flute, Sterling silver keys and mechanisms, open hole (rings), B foot, inline G, French pointed key arms, Boehm system with closed G#, original case, no cracks, modern pitch
Donlet Pigis Lefevre, France
· Donlet Pigis Lefevre Wooden Flute
Circa 1800 handmade wooden flute, cylindrical bore headjoint, conical bore flute, German silver keys and mechanisms, open hole (rings), C foot, inline G, French pointed key arms, Boehm system with closed G#, case, no cracks, modern pitch
Rudall Carte of London
· Rudall Carte Grenadilla Wooden Flute
Circa 1880, handmade Grenadilla wooden flute, sterling silver keys and mechanisms, closed hole, C foot, offset G, Y arms, Boehm system with closed G#, original case, modern pitch - Overhauled
· Rudall Carte Grenadilla Wooden Flute
Handmade Grenadilla wooden flute, German silver keys and mechanisms, closed hole, C foot, offset G, French pointed arms, Boehm system with closed G#, original case, modern pitch - Overhauled
Jerome Thibouville-Lamy (J.T.L), France
· Jerome Thibouville-Lamy Grenadilla Wooden Flute
Handmade Grenadilla wooden flute, cylindrical bore headjoint, conical bore flute, German silver keys and mechanisms, open hole (rings), C foot, inline G, French pointed key arms, Boehm system with closed G#, original case, no cracks, modern pitch
· Jerome Thibouville Lamy 19th Century Classical Flute
Handmade 19th century classical rose wood flute - Overhauled
Emil Rittershausen, Germany
· Emil Rittershausen Professional Wood Flute - SOLD
Handmade Grenadilla wood flute, metal lined headjoint, closed hole, C foot, offset G, French pointed key arms, additional trill key, made in Germany, with original case, grease can. Clearly Marked: E. RITTENSHAUSEN on all three pieces. Overhauled and plays beautifully at modern pitch.
Louis Leon Joseph Lebret, France
· Louis Leon Joseph Lebret Flute
Handmade flute, soldered tone holes, open hole, C foot, inline G, raised pointed key arms and cups, Boehm system with closed G#, original case, modern pitch, not overhauled.
Paul Beuscher, Paris France
· Paul Beuscher Flute
Handmade, soldered tone holes, open hole, offset G, C foot, French pointed key arms, Boehm system with closed G#, original case
Djalma Julliot, France
· Djalma Julliot Flute
Handmade flute, soldered tone holes, closed hole, offset G, C foot, French pointed key arms, Foster extension, original case, cleaning rod, and tenon protectors
William S. Haynes, Boston, Mass
· Wm. S. Haynes, 1972 Handmade, .014 thin wall, solid sterling silver flute (body, foot, keys and mechanisms), soldered tone holes, open hole, offset G, B foot, 12kt gold springs, Haynes case, overhauled and fine tuned
· Wm. S. Haynes, 1932 Handmade, solid sterling silver flute (body, foot, keys and mechanisms), soldered tone holes, closed hole, offset G, C foot, 12kt gold springs, custom ordered with Y arms, C# trill, split E, D# roller, and F# facilitator key, Haynes case, overhauled and fine tuned
· Wm. S. Haynes, 1946 Commercial model, solid sterling silver flute (body, foot, keys and mechanisms), closed hole, offset G, C foot, 12kt gold springs, Haynes case & cleaning rod, overhauled and fine tuned